So just what is a virtual CIO, you might ask? By going the virtual route, you avoid the cost of full-time salary and benefits, which makes sense for small, growing businesses that need the services of a CIO for perhaps only one day a week or month. A virtual resource can fill a senior technology position and is ideal if you need the experience of an IT expert to build a technology strategy that supports your business strategy.
Larger organizations can also benefit from a virtual CIO. Perhaps the full-time CIO and the IT organization are so busy they can't focus sufficient resources to get a desperately-needed digital transformation strategy in place or to implement a new technology. Bringing in temporary support with management experience to run the project just might be the way to get the job done!
To begin the process of determining if a virtual CIO would work well for your business, first consider your level of IT maturity. This can be applied to your entire business or a department:
Do you have an IT strategy or road map?

Can you effectively evaluate the ROI of IT projects to justify your investments?

Are you investing in technologies that give you the biggest bang for your buck?

Do your technical support capabilities keep pace with the growth of your business?

Are customers and internal users receiving the digital capabilities they require?
If you answer "No" to any of these questions, bringing in a virtual CIO could get you over the hump to make sure technology facilitates operations rather than hinders employees, customers and partners from doing business. A virtual CIO can also address challenges you face in specific areas of the business—ranging from controlling IT costs to managing your physical IT environment, enabling employees to collaborate and share data, and managing data so it's accurate and remains secure at all times.
In this article, we examine the challenges in each of these areas and how a virtual CIO can help.
Controlling IT Costs
Many businesses end up reducing their investments in both human resources and IT spend because they are currently paying for an out-of-control IT environment or duplicate technology. This can easily occur in businesses with multiple sites where office managers oversee individual Internet services and other IT contracts.
Tapping into a virtual CIO to help you consolidate IT services across locations can save a lot of money. And by standardizing your IT infrastructure, you strengthen your security posture and improve your ability to deliver consistent IT services to both customers and employees.
Other areas to look at for saving costs are the recurring charges for new IT hardware and software for point solutions deployed in various departments. As you grow organically and keep adding new systems, these costs can get out of control, and the systems can become more complex to manage. A virtual CIO can review your current contracts to look for unused functionality or duplication between systems.
As a virtual CIO goes through this process, they might also help you realize it's time to transition to an Enterprise Resource Planning (ERP) solution that encompasses most, if not all, of your business functions in one system. This will likely allow you to consolidate hardware and migrate away from isolated software systems.
You will also improve your ability to automate and streamline workflows and avoid the cost of manually re-keying data from one system to another. Additional cost savings come from reducing the need to print out so many forms and reports.
The initial investment you make in new, consolidated technologies will generate significant savings on the back-end. A virtual CIO can also help you analyze the ROI of IT projects and perform cost-benefit analysis to show the trade-offs and expected OpEx and CapEx as well as the total cost of ownership of the new technology.
Hiring a virtual CIO pays for itself. Additionally, by reducing your IT spend, you can reallocate the capital to other areas of your business—such as hiring more great people!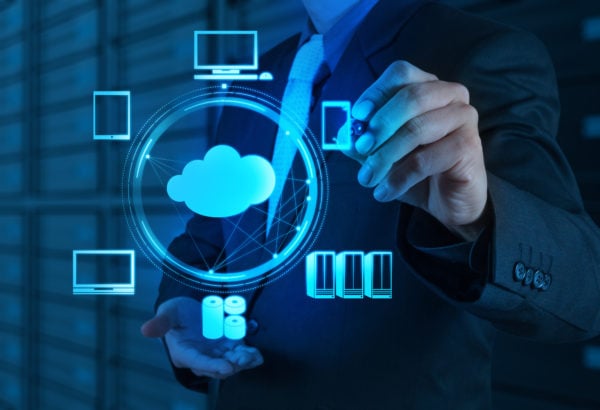 Managing Your Physical Environment
Your physical IT environment is another area where a virtual CIO can help. Here are a few of the tell-tale signs indicating you need to reorganize your infrastructure. They typically occur as offices expand their physical footprint:
Multiple devices chained together

Wires strung along the walls

Switch devices located in multiple rooms

Dropped wireless network connections

IT equipment stuffed into a corner or unlocked closet
In addition to creating an unprofessional environment for employees and making a poor impression on visitors, conditions like these create an unsafe physical environment where people might trip over equipment. This may not only cause an injury but may also damage the gear. These conditions also increase your IT security risks. Technology equipment that is not carefully secured offers an opportunity for anyone entering to the building to be able to "hack" into your network and gain access to your business and customer data.
One way to quickly change the situation is to work with a virtual CIO to move your IT environment to the cloud. It's a good time for this for when your servers and other infrastructure gear are aging. Instead of replacing them and incurring the large upfront costs of on-premises systems, you can convert IT to a predictable monthly cost.
The cloud can also give you more space by taking care of all of your data storage needs. You can eliminate file cabinets and gain the ability to more easily manage and share files and provide access to end-users who work at other offices, from home, or on the road.
At the same time, you will improve your security posture and better protect your digital assets. In the cloud, there's no need to worry about anyone accessing the gear or breaching your network through open ports on your routers. You also get the benefit of the advanced security measures that cloud providers offer.
Enabling More Collaborative Business Operations
If you have multiple departments keeping track of their own versions of customer data, it's difficult for employees to collaborate and share the data. As a result, your customers will likely experience segmented interactions. When they talk to marketing, sales, customer service, operations or accounting, they might hear different stories; it's the age-old adage, "the left hand does not know what the right hand is doing!"
To solve this challenge, a virtual CIO can assist you in deploying a Customer Relationship Management (CRM) solution, integrate it with your ERP system, and make sure employees have access from anywhere. Depending on the solution you choose to work with, the ERP and CRM capabilities can also be consolidated into one system.
Virtual CIOs are particularly valuable for these types of projects because many companies struggle in their attempt to deploy CRM and ERP solutions. Failed projects can be caused by disconnected, controlling or uninformed leadership. The project implementation resources may also lack the necessary experience. A virtual CIO will help you keep things on track.
You will also appreciate using a consolidated system with remote access should another situation like COVID-19 strike. Employees will still be able to easily work from home with access to everything they need. If you set up your solution in the cloud, they also won't have to connect through a VPN for access, which can be difficult to configure, manage and secure.
Another collaboration tool virtual CIOs can assist with is your phone system. You might want to consider a hosted phone platform that offers softphones and the ability to transfer calls to other numbers. This can help you avoid situations where employees use personal cell phones for business, which can get dicey if they leave the company, go to a competitor, and your clients start calling them directly.
An added bonus of hosted phone platforms is that they make it easier to set up call centers. Should you start to see a spike in calls, you can quickly connect remote service reps from their home offices to handle all the calls.
Leveraging Data and Keeping It Secure
As you deploy technologies to improve your collaboration and data-sharing capabilities, be sure to keep data integrity, security, and accessibility in mind. Treat your company data and your customer data as assets. In addition to protecting the data, make sure it's accurate, and you have the ability to leverage the value of what the data tells you.
Key data management areas a virtual CIO can evaluate for you include identifying all of your data sources and who has control over those sources. The CIO can make sure each source easy to access and determine if there are any security gaps.
It's also important to assess data in terms of how it helps you make decisions to run your business operations. Can managers easily create and run reports, or do they have to cobble together data manually from multiple sources, like Excel spreadsheets? Is the data in your environment accessible and understandable to those who make your most critical decisions? If not, a virtual CIO can assist you with implementing data analytics and business intelligence to make stronger and better-informed decisions.
From a security standpoint, a virtual CIO can help you implement strong password policies and train your employees about the importance of data security and how to prevent cyberattacks. This is key because human errors are the number-one risk to data security.
Make All Your Headaches Go Away
The challenges we have discussed in this article may seem daunting. That's because your expertise likely lies in the products and services you deliver to your customers. Unless you're in the IT business, technology simply is not a core skill.
But a seasoned virtual CIO, particularly one with experience in your industry, can make all of these headaches go away. Working for you on an on-going, part-time basis, they can manage the resources that will deploy the necessary technologies.
You will also avoid the cost of a full-time time CIO and establish a solid technology foundation for your business to run more efficiently. More importantly, you will improve your customer experiences.