Community Development Financial Institutions (CDFIs) play a critical role in our communities. They tap into financing sources—and recruit investors and donors—to enable organizations that might otherwise not qualify for financing to receive loans to launch vital community programs. Those programs create a wide range of benefits within their respective cities and towns: jobs, educational opportunities, affordable housing, and other important citizen services.
When it comes to evaluating the performance of the loans CDFIs extend, they need to look beyond the numbers as far as loan repayments and returns for investors. They also need to measure the impact of the loans on the community. Do the financed programs deliver on their mission?
Solving this challenge is a key driver for ATX as we launch Caliper CDFI Analytics. The Caliper BI solution already has a solid track record in the construction industry, and as part of our plan to extend the solution to other verticals, we're now rolling out a version of Caliper BI for CDFIs.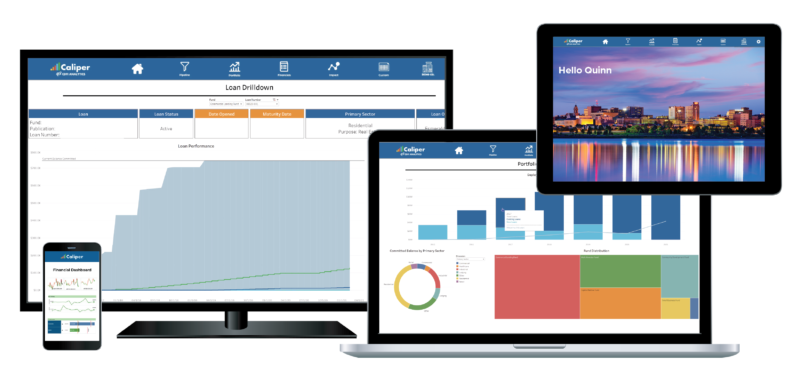 Compiles and Analyzes Data from Multiple Source Systems
Caliper CDFI Analytics offers the flexibility to integrate with multiple source systems to collect required data for robust portfolio analytics and efficient impact reporting. Management can also leverage to produce a range of reports for various audiences, such as external investors and donors.
"As is the case with other financial institutions, CDFIs want to ensure a pay-off on the loans they extend, but they are also strongly invested in the programs of their clients," says Mark DiGiovanni, ATX Partner and Co-Founder. "The success of each community program is just as important as the performance on the loan. Caliper gives them the ability to measure both aspects."
Caliper functions as a data warehouse in the cloud—collecting data from multiple source systems including origination, loan accounting, and financial accounting platforms. CDFIs can also link to other data sets such as borrower surveys, census data, and other external data sources. Another key is the ability to compile data on third parties that provide resources to community projects such as construction firms.
"CDFIs have a complex data structure and serve many constituents, making it difficult to measure and report on their portfolio," says DiGiovanni. "Our centralized Caliper data warehouse applies business logic and improves the quality of the data, and this makes it easier to present the data on dashboards so it can be easily analyzed. The solution offers several pre-built dashboards designed for CDFIs, and we can add custom dashboards to meet specific reporting requirements."
ATX Expands Already Strong BI Team
Along with the launch of Caliper CDFI Analytics, ATX is expanding its team of experts who focus on the CDFI sector. The firm also recently closed on financing from the Maine Technology Institute that will be used to expand the Caliper offering. As part of this effort, ATX is looking to establish new partnerships with software vendors who provide point solutions to CDFIs.
DiGiovanni also notes there's a gap in the market for holistic business intelligence that covers the entire CDFI business model. While some point solutions for individual systems exist, there is not one like Caliper, which can bring data in from any source system for full visibility into all key performance indicators.
"Targeting the CDFI vertical as the next step for Caliper makes perfect sense," DiGiovanni adds. "We already have expertise within the industry—along with a solid client base for which we provide consultation services on technology solutions. The mission of CDFIs also aligns with our core value of having a positive impact on our communities."
For more information, visit the Caliper CDFI Analytics web page. You can also learn more about the solution by reaching out to me at jacob.adams@atxadvisory.com.