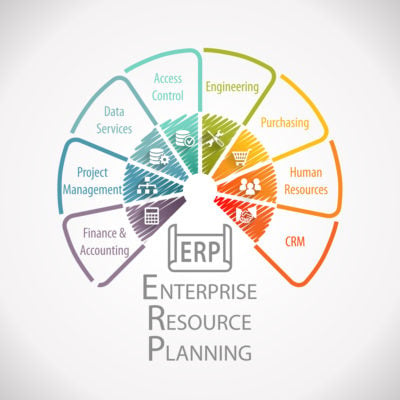 As your business grows, so too do the requirements of your ERP platform. You might be increasing your customer base, adding new employees, delivering more products and services, or perhaps all of these scenarios are happening simultaneously.
Either way, the need for greater process efficiencies is now vital. This means deploying the necessary technology to automate processes and enable instant access to real-time information.
There are usually tell-tale signs when the time has arrived to transition to a broader and more robust ERP solution. Here are four common issues that indicate it's time for your business to make a change:
Inability to Scale – Does your current ERP system offer the functionality required to run your business smoothly? Whether it is older software no longer supported by the vendor, or simply a poor fit for your present and future needs, the wrong ERP solution can stymie organizational growth. Additionally, outdated software creates a challenge to recruit and retain top talent—the best and brightest employees will seek out companies with cutting-edge technology.
Solution: Replace your current ERP system with a modern, robust ERP solution capable of handling the challenges of a growing business in an ever-shifting marketspace. Key scalability capabilities to look for include the ability to expand the solution into different business areas, flexible configuration of business process, workflow and auditing, and a regular software upgrade schedule.
Inflexible Access – Is your current system a desktop application hosted on company servers? Does it require expensive IT resources and limit the ability for employees to efficiently work remotely? Many companies have employees using both Windows and Mac computers, requiring the creation and support of virtual machines to allow Mac users to access the Windows-based ERP.
Solution: A browser-based cloud ERP solution will work on all operating systems—many even have mobile apps for both Android and iPhone devices!
Inefficient Information Processing – Does your business rely on offline tools, like Excel, to create and distribute key reports? Can information be easily shared between departments? Taking data offline to manipulate and reconcile will introduce the potential for mistakes and can be a time-consuming process.
Solution: Find an ERP with built-in reporting and the ability to seamlessly share data between departments. For added points, advanced reporting and dashboard tools can be developed using Business Intelligence—the answers to most questions will be just a few clicks away.
Complex Integrations – Is your IT environment complicated by several third-party software applications to support your core ERP? Even well-integrated supporting applications pose a challenge for growing businesses by burdening the IT department with building and maintaining those integrations. It can be frustrating for employees who need to access multiple applications to compile the data needed to create reports and make decisions.
Solution: Take inventory of what functionality each application (including your core ERP system) does for your business. Using that list, create a comprehensive set of software requirements and find an ERP solution that can simplify your IT environment by offering the most functionality under one umbrella.
If your business is dealing with one or more of these issues and you think you need a new ERP system, navigating the complex world of vendors and different applications can be overwhelming. This is especially true when your day-to-day responsibilities don't just disappear.
That's where ATX Advisory can help! We offer an extensive network and an experienced team ready to guide your business through the process of determining if now is the time to deploy a new ERP solution. If so, we can then assist in researching and selecting the platform that best suits your business needs. We are also product-agnostic. That means we only recommend the best fit for your company.
Contact us today to get your ERP selection started!
Author, Matt Malitsky, ATX Advisory Services