Earlier this year, we celebrated the five year anniversary of ATX! As we enjoy this milestone, we have been reflecting on our past and thinking towards our future.
When we started ATX in 2013, our goal was to build a scalable consultancy that fits a unique need in the market place. We believe that our approach of strong client collaboration, direct partner involvement on every client engagement, and experience implementing as well as advising has been validated through not only our success, but the significant growth of our clients. When we couple this approach with our focus on targeted industries and ability to provide flexible expertise to growing mid-market businesses, we provide a service that truly is unique.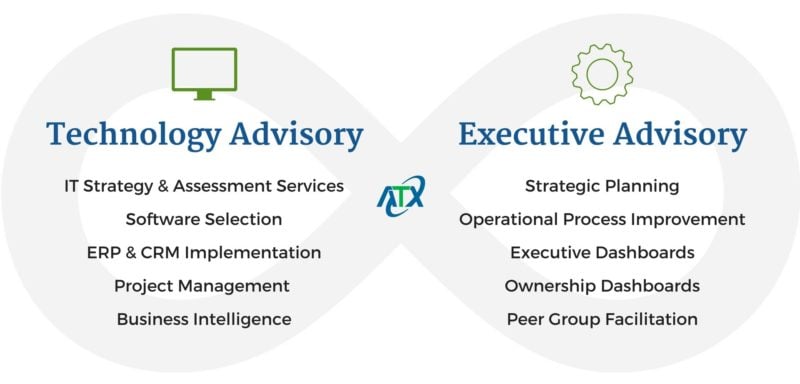 Our core values, mission, and service offerings remain largely unchanged from our initial launch five years ago and have been validated and battle tested.
We are a nimble, full-service consulting firm that works collaboratively with dynamic mid-market businesses to define strategy and deliver on your vision through the alignment of people, processes, and technology. We provide you with the best of both worlds; small-company service and relationships coupled with deep industry expertise.
Deliver exceptional service
Operate with integrity
Build lasting client partnerships
Grow our employees
Deliver thought leadership
Develop vibrant business relationships
Give back to our communities
Follow our own advice
The past five years feel like a whirlwind but we are excited and invigorated to continue our journey forward. We are grateful for our clients and employees and our proud of the impact we have on them and our communities.
We started in 2013 with a vision and a handful of client prospects. We have consistently grown revenue in excess of 30% per year and are proud to now have over 35 clients. Before we look too far ahead let's look at some of the achievements and highlights ATX Advisory Services has gone through these past 5 years and where we are at today: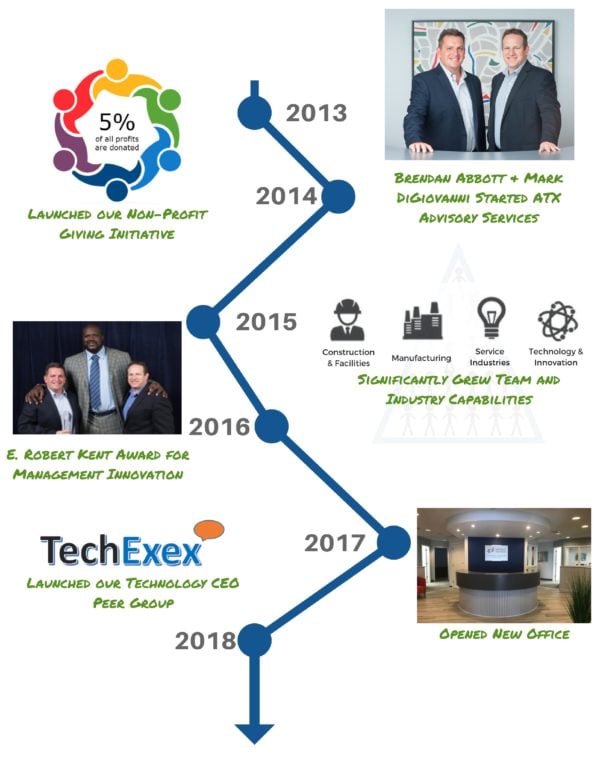 Targeted business intelligence solutions for selected industries to help our clients drive their businesses to the next level

Continued growth of our client base in our targeted industries of Construction & Facilities, Manufacturing, Business Services, and Innovation

Growth of our team through the hiring of experienced industry experts, technology implementers, and business and data analysts along with continued investment in training and development

Expansion of our corporate giving including client directed contributions and increased giving based on our continued growth

Geographically, our business has no bounds serving clients across the United States and Canada along with international affiliates
Thank you to our clients, friends, families and all those in our network that have helped make the first 5 years of ATX brighter than we ever imagined. You have also provided the rocket fuel for our next 5 years!